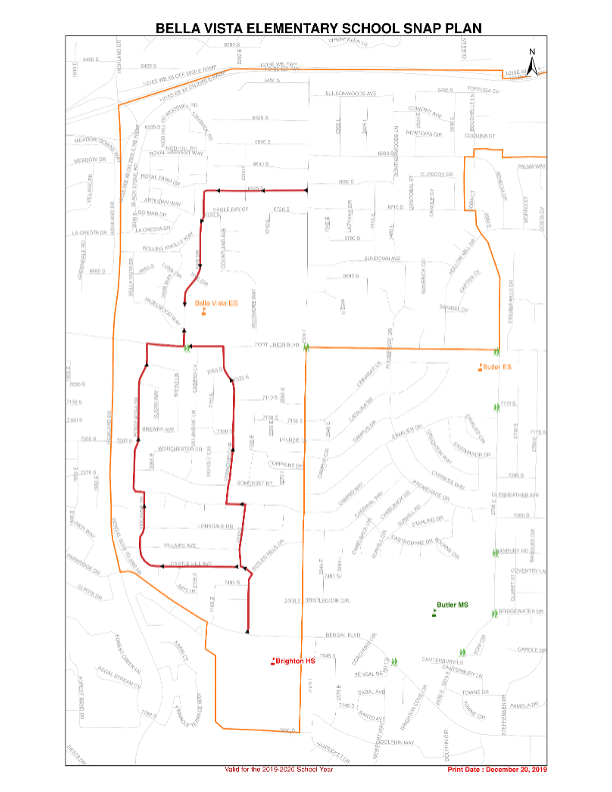 The Safe Walking Route map shows suggested walking routes to Bella Vista Elementary for those students who do not ride the bus to school. Arrows depicting walking routes are along major roadways and intersections.
Please note the following important features:
Students must use sidewalks, which exist, on both sides of all major roads.
On streets without sidewalks, the students should walk on the left side of the street.
Adult crossing guards will be on duty at the locations shown on the map on all schools days between 8:05 – 8:40 AM and again between 3:15 – 4:00 PM (1:30 – 2:10 on early release days).
Students living south of 7000 South should use the sidewalks on the south side of the road and cross 7000 South under the crossing guards direction at Nye Drive and 7000 South.
Students living east of 2300 East are currently receiving busing from the District transportation department.
Any student who chooses to walk should walk on the east side of 2300 East and cross 2300 under the crossing guard direction of 2300 East and Fort Union Boulevard. They should continue to walk on the north side of Fort Union Boulevard until they get to Nye Drive.
Following the arrows, guardians should select the best route from their home to the school for their student. Families should become familiar with a selected route by walking it together. Families should observe all marked crosswalks and stop signs.
Any safety problems or school walking route difficulties should be reported to the school office.